NGO Name: Pont du Tamarinier
United Nations Sustainable Development Goals
1. End poverty in all its forms everywhere
6. Ensure availability and sustainable management of water and sanitation for all
10.Reduce inequality within and among countries
11.Make cities and human settlements inclusive, safe, resilient and sustainable
Project Summary
Carre D'As is a village situated on the main road of Black River, adjacent to London Way Supermarket, where 48 families are living in precarious conditions. Le Pont du Tamarinier (LPDT), for the last 13 years, has accompanied these families and advocated for them to obtain decent housing. In the meantime, LPDT has also implemented projects to better their living conditions while they wait for the social housing project to be realised. Many homes have no access to water in their current houses and have limited access to the reservoirs that are situated in the village. The Carre D'As Sanitary Project aims to provide effective solutions to better their living conditions. In conjunction with the I61 Foundation, Redeemer Church, the Tamarin Village Council and the habitants of the village, LPDT aims to remedy this situation, and invites others to join in this initiative that will change the lives of those in need.
Project Update (September 2021)
The Sanitary Project is coming along well at Carré d'As with the cement sinks built and the foundations laid for the steel structure that will hold the water tanks. Next is the plumbing and the building of the steel frame. Keep checking in to see how our partners are working together to create greater access to clean water for this community.
Project Update (November 2021)
The concrete sinks have now been built creating a washing space for dishes and clothes. The frame for the second water tank has been put up and a JCB was brought in to raise the water tank onto the frame. The top water tank will feed into the lower tank increasing the water pressure.
The next step is to connect these water tanks to a system of pipes that will run between the homes creating 4 water points for easier access to water.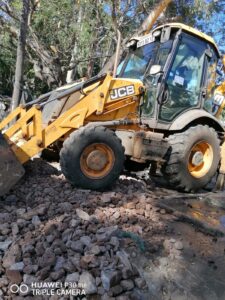 Please Note: All information herein, in part or in whole, is that of the said NGO and not of the I61 Foundation. 100% of the funds raised will be allocated to the project. If you have any questions, we would be more than happy to answer them. Thank you for your consideration.