NGO Name: Amour et Espoir
United Nations Sustainable Development Goals
2. End hunger, achieve food security and improved nutrition and promote sustainable agriculture
3. Ensure healthy lives and promote well-being for all at all ages
Project Summary
The budget of Amour et Espoir has been severely affected due to the National Social Inclusion Fund (NSIF) cutting back on funding. The reason for this is that due to the negative impact of Covid-19 on the economic stability of Mauritius, there is less profit being made by companies and as a result less Community Social Responsibility (CSR) funds being paid to the NSIF. The hardest result of this knock-on effect is that there are now more desperate families in the community than ever before depending on NGO's.
Coteau Raffin, where the Association is located, is one of the three poorest regions in Mauritius. During this economic downturn the conditions are even more devastating, if that's possible. Many of the parents are unemployed, living in awful conditions and not able to provide their children with adequate nutrition. The Association ensures each child receives a safe place to have a meal before and after school as well as a snack later. For some children, this is the only food they receive throughout the day. We are very grateful to the funder for ensuring this happens.
Translation:
"I am Atelia and I am really happy to get my fruit each week."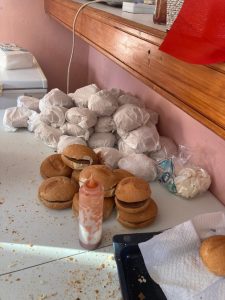 Please Note: All information herein, in part or in whole, is that of the said NGO and not of the I61 Foundation. 100% of the funds raised will be allocated to the project. If you have any questions, we would be more than happy to answer them. Thank you for your consideration.